HCA Sweeps Fayette Christian on Senior Night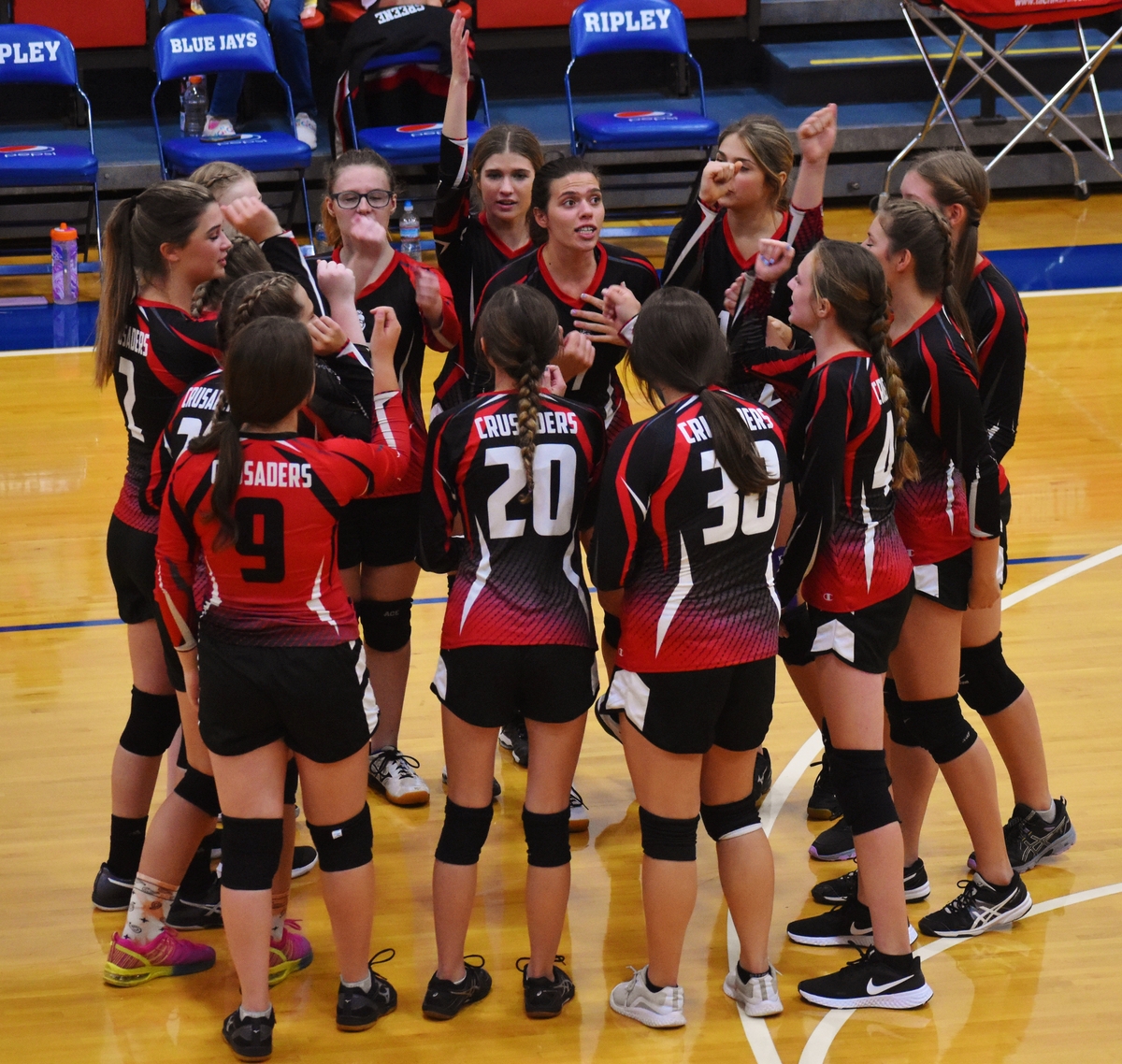 Hillsboro Christian Academy hosted the Fayette Christian School Lady Crusaders on their final home game of the season on Oct. 11. The HCA Lady Crusaders won their Senior Night game in three sets by scores of 25-17, 25-15 and 25-09. The HCA Lady Crusaders honored their five seniors, Cheyenne Curtin, Lillian Hainline, McKenna Hatfield, Kiersten Williamson and Jordyn Zimmerman, before the game.

The HCA Lady Crusaders were led in assists by Hainline with 19. Hainline also led in playable passes with 50. Hatfield led the team in kills and aces with ten and eight respectively.

Hillsboro Christian Academy jumped out to an early 9-6 lead in the first set against FCS. The HCA Lady Crusaders carried the lead throughout the set thanks in large part to the serving of sophomore Carlee Puckett and Hainline. Hainline's run of five points ended the first set in the HCA Lady Crusaders' favor.

The FCS Lady Crusaders led early in the second set, but the HCA Lady Crusaders recovered and took the second set 25-15. Hatfield's serving runs of six and three propelled the Lady Crusaders to the victory. Curtin scored seven points of her own in the set including the point that took the lead away from the FCS Lady Crusaders.

The third and final set of the night belonged to the HCA Lady Crusaders. Puckett began with a run of six points which gave the team an early 6-0 lead. Curtin scored another nine points in the third set to put HCA comfortably ahead. The final point of the game was scored by senior Williamson as the HCA Lady Crusaders won 25-09, finishing their regular season with a record of 13-5.

The HCA Lady Crusaders' next game is on Oct. 15 in the Emmanuel Baptist Church School Classic. The Lady Crusaders earned a first-round bye for the tournament and will play the first game on the second day of the tournament. The winner between the Cozzadale Baptist Academy and the Emmanuel Baptist Church School game will take on the HCA Lady Crusaders.